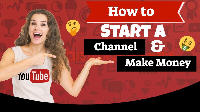 Hi, my name is Steve and welcome to my channel and my first video.
About me first:
English is not my first language because I speak French on a daily basis so I have an accent "Quebecois" because I'm from Quebec City, Canada. I'm 51 and I've been into the make money online niche since 2008. I've got my blog mcgrath.ca since 2000 and then a little bit earlier than that. At one point, I had 375 domains that I used for SEO and SEO service. I don't have them anymore. I will make a video sometimes about it if you want.
Like most of you, I have a job so I don't intend to make this a full-time job so I will update every two weeks. I expect you'll understand more why later on. Like you, I wanted to start a channel so I took uh many, many hours watching similar videos so you don't have to and combine all the information I found in this video.
Here is the list of the seven subjects in this video:
Starting a channel
Settings in your channel
The equipment
The reality of making videos
SEO to bring viewers
Bad things to expect
Let's talk about money money money
Giving back (Bonus)
Continue reading: How to Start a YouTube Channel and Make Money!