When Crave announced that they were going to be bilingual on Jan 28, I was happy for my friends and potential francophone subscribers in Canada. A lot of good French content will at last be available to them. It is a step in the right direction for Crave when competing with Netflix, Disney+, Apple TV+, Amazon Prime... It also makes Super Ecran($19.99/month) available without being a cable subscriber so a good option for those wanting to cut the cord.
In the early morning of Jan 23, I noticed that Star Trek Picard was available. On the Apple TV, I saw that EN FR letters under the thumbnail of the first episode. Cool! I can see beforehand that both languages were available. On Apple TV and my Android app, I look at other shows and the letters EN FR were in the description but not on all of them. Some had the previous episodes but not the most recent one or needed a Super Ecran subscription for the French language. I expect, in time, that streaming rights will allow them to be available same day as the airing/availability like Picard. Of course, it's not even Jan 28 ... yet.
Btw, the Amazon Fire TV does not show the language letters(v2.0.21) but the 2 ratings under the main title. On it, you need to play the episode and then change the language(bottom). Crave does not seem to have full control on how to manage the interface on streaming players.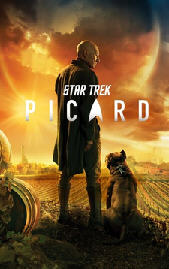 What about Star Trek Picard in that?
As a fan of the Star Trek franchise, I hoped that a new show like Picard will be available in 5.1 sound unlike Discovery(Stereo). I think that Crave dropped the ball again because Picard is in stereo even in English and on the Apple TV. I check this morning and it is still in stereo. When I had Crave on Bell Fibe, Discovery and other shows/movies were in 5.1 sound. So, I was disappointed that they did not take this new opportunity to offer 5.1 sound for a Sci-Fi show like Picard ... at least on the Apple TV. In case you don't know Apple TV (4th gen) is the only player to support partial 5.1 sound(mostly HBO content) on Crave.
Yes, Crave has good content and going bilingual is a good step but they are behind on the technology front. Those with Roku/PS3/PS4 players are still waiting for their app when the competition had them for years.
Keywords: crave, cord cutting, Apple TV, 5.1 sound, streaming